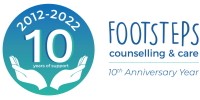 Contact Information:
Footsteps Counselling & Care
51 Westgate Street
Gloucester
Gloucestershire
GL1 2NW
Tel: 01452 308618

Click here to see all adverts from Footsteps Counselling & Care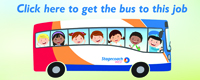 If you have reason to believe this vacancy is no longer available, please click here to report it to GlosJobs.co.uk.
This job has now expired. Please do not apply for this position.
Fundraiser / Bid Writer
Gloucester
About us:
Thank you for your interest in the Fundraiser/Bid Writer role at Footsteps Counselling and Care.
We are a charitable organisation offering free professional counselling to anyone in Gloucestershire affected by pregnancy-related issues or the loss of a baby. Counselling can provide a sense of safety in a neutral place with someone who understands, thus enabling people to safely explore their feelings and emotions. This can provide a great sense of release, allow healing and can provide the strength to move forward. Feeling listened to, understood and accepted can be very powerful and therapeutic.
The counselling provided by Footsteps Counselling and Care is free at the point of delivery as we do not want anyone excluded due to their financial circumstances.
At Footsteps Counselling and Care we aim to provide professional and timely counselling to
anyone in Gloucestershire who would benefit from our services.

We believe that those who:
● have experienced trauma during pregnancy or birth
● are suffering from post or prenatal depression
● have lost a baby at any time and for any reason
● are struggling with fertility issues and childlessness
should have access to the support they need. We believe that this support should be free from the boundaries of financial constraints and personal circumstances and accessible to all who need it.
Footsteps does not receive any government or NHS funding and we rely on our charity shop
and our own fundraising to continue providing services for those that need it.
Role Description
We are looking for a motivated, experienced fundraiser to join our small team. You will be an enthusiastic, insightful and tenacious professional who can write excellent bids/proposals to generate funds to support our work. The role will require contact externally with
trusts/foundations and statutory funders, as well as local stakeholders. You will prioritise these opportunities and complete applications to secure funding; ensuring a consistent, high quality and coordinated approach and additionally contribute to and produce reports on funded work.
The role will also include some local and community fundraising and events.
KEY TASKS
● Research potential funders using relevant mechanisms and maintain records of the
findings, including criteria, review dates and application deadlines.
● Take responsibility for and lead the completion of a number of applications contributing
significantly to the team's annual fundraising targets.
● Be responsible for ensuring that applications and reports are completed to the criteria
and standard as specified by the funder and that they are reflective of Footsteps
Counselling and Care's mission and values and conform to our branding standards.
● Liaise with colleagues to obtain information required for funding proposals, ensuring that
the relevant core organisational costs are included
● Analyse funding information and patterns of support from trusts/foundations and
statutory funders in order to be aware of new opportunities and funding streams.
● Take responsibility for the completion of detailed reports, in conjunction with colleagues,
to funders on the progress of projects they have funded.
● Collate any additional information needed, such as financial statements and supporting
literature
● Ensure all funders receive the appropriate level of acknowledgement and recognition
and feedback on the monitoring of inputs, outputs and outcomes, in line with their
specific requirements.
● Maintain and strengthen relationships with existing and potential funders through regular
newsletters and other correspondence, events and careful database management.
● Stimulate, encourage and support fundraising activities in Gloucestershire carried out by
individuals, organisations and associations on behalf of Footsteps Counselling and Care
● Identify opportunities to raise awareness of Footsteps Counselling and Care in the
county through talks, attending local and networking events
● Increase potential local funding streams by developing links with individuals and groups,
including local companies and community organisations
Accountable to: Trustees (with day to day line management by Office Manager)
Location: 51 Westgate Street Gloucester, GL1 2NW
Hours: 10 hours per week
Contract: One year fixed term contract (with a view to extended, subject to performance)
Salary: £14 to £18 per hour (depending on experience)
Person Specification
ESSENTIAL
★ Previous experience of working in a similar role with a proven track record of successful
fundraising
★ Highly developed written and verbal communication skills
★ Well-developed IT skills, including Microsoft Office
★ Excellent interpersonal skills
★ Excellent numeracy skills
★ Ability to plan and organise a varied and busy workload, including handling conflicting
priorities and meet deadlines
★ Budget management skills
★ Knowledge on best practice within the charity sector generally and particularly
Fundraising standards within the Code of Fundraising Practice
★ To be passionate about our work and committed to our charity
DESIRABLE
★ Institute of Fundraising Full Member
★ A pro-active approach, self-motivated and enthusiastic
★ Ability to work well within a team
★ Excellent organisation and time management skills
★ Flexible approach to work including willingness to work outside of usual hours on occasion if required by the role
★ Experience of events management
★ Excellent influencing and persuading skills
★ A 'can-do' attitude
★ Self-driven and self-motivated, able to work alone and use initiative
How to Apply
To apply for this position, please forward your CV by clicking on the Apply Now button together with a supporting statement which should be a maximum of two pages of A4. Please ensure that your application fully addresses the key requirements for the role.
Closing date for applications: 3rd April 2018 - Interviews will be held on Wednesday 18th April
Newsletter
To sign up up for GlosJobs weekly newsletter, please click here.