Dear Subscriber,
As a result of feedback and requests we have made some changes to the homepage of www.GlosJobs.co.uk have you spotted them? 4 new categories on the homepage to help you navigate the website better and a new opportunity for all you freelancers out there. Click on the following link for more information:
An update from David Owen, CEO GFirst LEP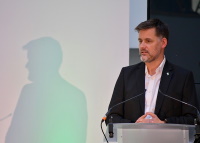 Recovery from the coronavirus pandemic represents the single biggest economic challenge since the Second World War. However, it also presents the single biggest opportunity to reshape the British economy to make it more inclusive, productive, sustainable, innovative, and resilient. To read the full press release click here.


If you're looking for more ideas to keep yourself and the family entertained, why not sign up to our PepUpTheDay.com daily newsletter. Every morning you'll receive fun snippets, quizzes and competitions. Sign up HERE. Plus, why not send us a picture of your dog or cat during the VE Day 75 celebrations to be featured as Photo of the Day on our website. Just email your pics to stories@pepuptheday.com
This month's www.glos.info top ten things to do is a little bit different. Due to the current climate they have put together a listing that features fun, interesting and useful things to do whilst at home for all ages during May. Click here for more information.
Remember to sign up for our www.glos.info newsletter to be in with a chance of winning a cash prize every week: Subscribe Here.
Many thanks,
Belinda Wilson
01242 236608
office@glosjobs.co.uk

GlosJobs on Twitter

GlosJobs on Facebook

GlosJobs on LinkedIn

GlosJobs on Instagram
Thank you for signing up to receive emails from www.GlosJobs.co.uk. You can view our privacy policies on www.GlosJobs.co.uk/policies.
If you find that you do not wish to receive details of new vacancies from us, please unsubscribe at the bottom of this email.
---
---
---
---
---
---
GFirst LEP - Giving Gloucestershire businesses TODAY the support they need for TOMORROW

GFirst LEP - Committed to bringing you the most relevant and important information as quickly as possible direct

Click here for more details
---
---
---
---
Medical Centre Manager and Clinical Supervisor

Hartpury University and College of Further Education - Gloucester

Click here for more details
---
---
---
---
---
---
---
---
---
---
---
---
---
---
---
---
---
---
---
---
---
To update your email preferences click here. If you would prefer not to receive future mailings from GlosJobs.co.uk, please click here.