Dear Subscriber,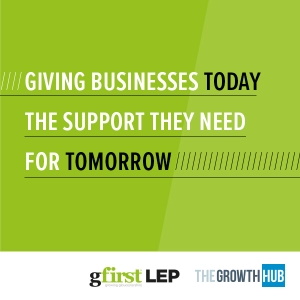 The hot weather of last week seems to have moved on for now, but not to worry as the www.GlosJobs.co.uk team were adding hot new jobs to the website as the numbers are increasing every week. Be the first to receive these new jobs to your inbox by signing up for the Daily Jobs Email. In today's current climate being first counts! Scroll down to see some of the latest and featured jobs.
Gloucestershire is part of a new wave of Careers Hub expansion announced by the Department for Education and The Careers & Enterprise Company, extending coverage in local communities across England and will be delivered by GFirst LEP. The GFirst Careers Hub will be made up of local schools and colleges working together with universities and training providers. To find out more click here.

Do you enjoy a LIMERICK? Well PepUpTheDay.com have 133 for you to enjoy here including the winning entry to the LOCKDOWN LIMERICK CHALLENGE.

Are you now open? Organising an event? Have some news or a promotion you would like to announce? Then www.glos.info has made it even easier with our new upload your own content tool. No need to write an email, just upload it directly onto our site and we will check everything and publish the content quickly. More HERE.
Remember to sign up for our www.glos.info newsletter to be in with a chance of winning a cash prize every week: Subscribe Here.
One extra thing... We realise that there is an increase in umemployment at the moment. We want to do everything that we can to help, so please do contact us with any suggestions you might have for how we can help. We are here to listen and try to help on office@glosjobs.co.uk.
Many thanks,
Belinda Wilson
01242 236608
office@glosjobs.co.uk

GlosJobs on Twitter

GlosJobs on Facebook

GlosJobs on LinkedIn

GlosJobs on Instagram
Thank you for signing up to receive emails from www.GlosJobs.co.uk. You can view our privacy policies on www.GlosJobs.co.uk/policies.
If you find that you do not wish to receive details of new vacancies from us, please unsubscribe at the bottom of this email.
---
---
---
---
---
---
---
---
We are looking for Installers for renewable systems - mainly solar at present

The Greenshop Group - GREENSHOP SOLAR LTD., BISLEY, STROUD GL6 7BX

Click here for more details
---
---
---
Operations Director (Registered Manager)

Crossroads Gloucestershire - Gloucestershire (office currently in Cinderford)

Click here for more details
---
---
Gloucestershire Careers Hub to help transform careers education and support skills for covid recovery

GFirst LEP - Gloucestershire

Click here for more details
---
---
---
---
---
Passionate about Early Years but looking for a different approach?

Cotswold Montessori School - Gloucestershire and Great Barrington

Click here for more details
---
---
---
---
---
---
---
---
---
---
---
---
---
---
---
---
---
Using the Apprenticeship Levy to Train Your Existing Staff via Zoom next Wednesday 17 June, 2-3pm.

Gloucestershire College Business Hub - Gloucestershire

Click here for more details
---
---
Hartpury University and College of Further Education - 9 jobs

Hartpury University and College of Further Education

Click here for more details
---
---
---
To update your email preferences click here. If you would prefer not to receive future mailings from GlosJobs.co.uk, please click here.