Dear Subscriber,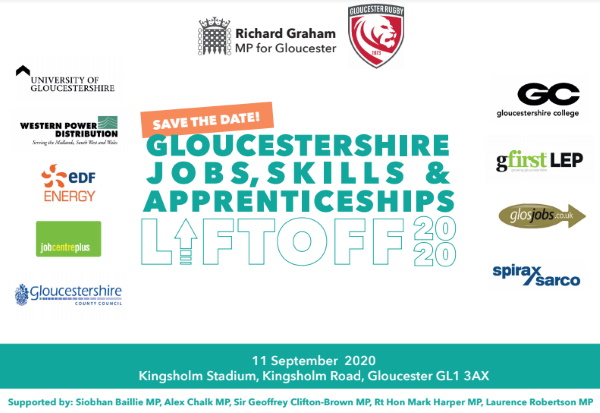 Save the date - 11th September 2020 as www.GlosJobs.co.uk are joint sponsors for the Gloucestershire Jobs, Skills and Apprenticeships LiftOff day at Kingsholm. More information to follow soon.
Need Top Tips for Getting the Job You Want? Then www.GlosJobs.co.uk are running an online zoom session for the job centre. If you know any organisations that might like us to do a similar session then please get in touch by emailing office@GlosJobs.co.uk.
Want to be the FIRST to apply for jobs? Then Sign up for the Daily Jobs Email, Bookmark the New Jobs page and scroll down to view new and featured adverts.

£140 CASH PRIZE IN THE EMAIL TOMORROW - TUESDAY - Have you signed up to PepUpTheDay.com to receive their newsletter yet? Sign up here and be in with a chance to win cash prizes and to enter great competitions.

If you're thinking of having a website but not sure what you want yet then how about just a holding page? The team at www.glos.info can help you. You could have your logo, an image and a couple of lines of text with contact details for just £60+vat. This also includes the first 6 months of hosting followed by a reduced monthly hosting charge of just £5+vat. Contact us for further details HERE.
Also check out our amazing Top Ten Things to do in August 2020 guide for some great ideas of things to do in the Summer Holidays.
Remember to sign up for our www.glos.info newsletter to be in with a chance of winning a cash prize every week: Subscribe Here.
Many thanks,
Belinda Wilson
01242 236608
office@glosjobs.co.uk

GlosJobs on Twitter

GlosJobs on Facebook

GlosJobs on LinkedIn

GlosJobs on Instagram
Thank you for signing up to receive emails from www.GlosJobs.co.uk. You can view our privacy policies on www.GlosJobs.co.uk/policies.
If you find that you do not wish to receive details of new vacancies from us, please unsubscribe at the bottom of this email.
---
*Recruitment Support Service* helping small and medium sized companies to attract, hire and retain the best staff for their business

The Job Guru - Gloucestershire

Click here for more details
---
---
---
---
---
SPECIAL 15% DISCOUNT CODE AT RED LETTER DAYS - Gifts, Experiences and Loads of Special Offers!

Red Letter Days

Click here for more details
---
---
---
---
---
---
---
---
---
---
---
---
---
---
---
---
---
---
---
---
---
---
---
---
---
---
NEW - UPLOAD YOUR OWN CONTENT! Publicity Power Up - Promote your events, business, website and more on www.glos.info

www.glos.info - Across Gloucestershire

Click here for more details
---
To update your email preferences click here. If you would prefer not to receive future mailings from GlosJobs.co.uk, please click here.