Dear Subscriber,
If you are in any doubt about whether www.GlosJobs.co.uk is "the best place for local jobs", then it will help when we tell you that you could have applied for 4,780 new vacancies since August 2020.
The team at www.GlosJobs.co.uk have been busy adding new jobs to the website since August which is reflected in the November 2020 report from the Office of National Statistics. The report states "Vacancies have continued to recover in August to October 2020 with an estimated quarterly increase, but the level is still 34.6% lower than a year ago" To read the full report click here.
Make sure that you find out about the new jobs first - Sign up for the Daily Jobs Email here.
Scroll down to see new and featured jobs or click on our New Jobs page to view some of the jobs on the website.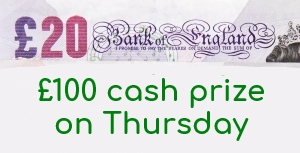 The Cash Prize on www.glos.info still remains unclaimed and it has now been increased to £100!!! One lucky reader of Thursday's newsletter will be the winner, so make sure you are signed up to receive it here.
There are MORE competitions on www.glos.info including concert tickets, hotel breaks, store vouchers and even a handknitted Christmas stocking! They're all HERE!
Many thanks,
Belinda Wilson
01242 236608
office@glosjobs.co.uk

GlosJobs on Twitter

GlosJobs on Facebook

GlosJobs on LinkedIn

GlosJobs on Instagram
Thank you for signing up to receive emails from www.GlosJobs.co.uk. You can view our privacy policies on www.GlosJobs.co.uk/policies.
If you find that you do not wish to receive details of new vacancies from us, please unsubscribe at the bottom of this email.
---
---
---
---
Personal Care Assistant / Support Worker / Carer

Private Advertiser - Located between Stroud, and Gloucester, Gloucestershire

Click here for more details
---
---
---
---
---
---
---
---
---
---
---
---
---
---
---
---
---
---
---
---
---
---
---
---
---
---
---
To update your email preferences click here. If you would prefer not to receive future mailings from GlosJobs.co.uk, please click here.