Dear Subscriber,
12 new companies decided to advertise their jobs on www.Glos.Jobs.co.uk in the last month! This means you now have 1,400 new jobs to apply for today... Scroll down to see some new and featured jobs or bookmark this page to see the new jobs each day.
And see all the companies advertising jobs here.
Do you want the skills and confidence to get the job you want? Then JobSmart by Gloucestershire College can help with a wide range of courses. Courses can be taught online and on campus all year round by industry experts, with personalised support available every step of the way. Click here for more information.
Take stock of your career and skills Top Tips - Learn something new. There are lots of courses available to help you in your current career or to help you move into a new one.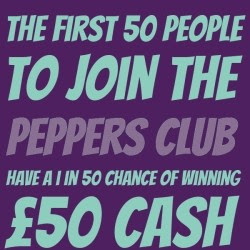 Exciting news alert! PepUpTheDay.com have just launched the Peppers Club.
By joining the Peppers Club you can get the following benefits:
Help fund the Pep team to keep bringing you original and uplifting emails every day
Entries into the regular cash draw x5 - five times more chance of winning the cash prize
Enter each competition x7 per week - enter competitions every day to have 7 x more chance of winning
Personal "Thank You" message of appreciation in the daily email
Special celebration day mentions in the daily email for birthdays, wedding anniversaries etc x1 per month
Plus, the first 50 people to join the Peppers Club have 1 in 50 chance of winning £50 cash...
New competitions launched this week on www.glos.info. ​WIN a signed copy of Jane Hissey's book "Little Bear's Dragon", a case of Belle & Co alcohol free sparkling rose and more Cheltenham Town football match tickets! Head on over to the Competitions page to enter.
Remember to sign up for our www.glos.info newsletter to be in with a chance of winning a cash prize every week: Subscribe Here.
Many thanks,
Belinda Wilson
01242 236608
office@glosjobs.co.uk

GlosJobs on Twitter

GlosJobs on Facebook

GlosJobs on LinkedIn

GlosJobs on Instagram
Thank you for signing up to receive emails from www.GlosJobs.co.uk. You can view our privacy policies on www.GlosJobs.co.uk/policies.
If you find that you do not wish to receive details of new vacancies from us, please unsubscribe at the bottom of this email.
---
---
---
---
---
---
---
---
---
---
---
---
---
---
---
---
---
---
---
---
---
---
---
---
---
*Want to earn money every 3 weeks?*

Avon Cosmetics - Cheltenham, Cirencester, Forest of Dean, Gloucester, North Cotswolds, Stroud, Tewkesbury

Click here for more details
---
---
---
---
---
To update your email preferences click here. If you would prefer not to receive future mailings from GlosJobs.co.uk, please click here.