Dear Subscriber,
The number of jobs added to www.GlosJobs.co.uk is increasing every week; we are currently advertising 1666 jobs today. If you are starting out on your career or are looking to change it what training and resources are available? From April, the government is offering almost 400 different free courses worth the equivalent of an A-level qualification, in subjects including accountancy, engineering and business studies. Click here for more details.

There is a fab new competition on PepUpTheDay.com has just been uploaded...Escape Rooms Cheltenham are on the move and they are offering up to £90 in vouchers to spend there when they reopen in May if you can guess where they are moving to. Just head on over to the competitions page, study the clues and if you answer correctly you could WIN.
We need your photos...and in return you could win a £10 Amazon voucher. Send us your photos to be featured in our Pet of the Day and Photo of the Day pages and we each month we choose a winner of the £10 Amazon voucher. Just email your photos over to stories@pepuptheday.com for your chance to WIN.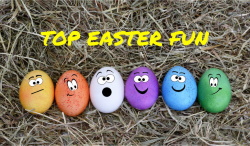 The Easter Special this year on www.glos.info has some great ways to entertain the kids during the coming holidays including improv shows, Easter Bunny drive thru's, virtual pottery and much more! Check out our list of fun HERE.
Here's something positive and fun to look forward to. Sandford Parks Lido have announced that they will be opening their 2021 season on Saturday 1st May and season tickets are on sale now! More details and where to buy your tickets can be found HERE.
Remember to sign up for our www.glos.info newsletter to be in with a chance of winning a cash prize every week: Subscribe Here.
Many thanks,
Belinda Wilson
01242 236608
office@glosjobs.co.uk

GlosJobs on Twitter

GlosJobs on Facebook

GlosJobs on LinkedIn

GlosJobs on Instagram
Thank you for signing up to receive emails from www.GlosJobs.co.uk. You can view our privacy policies on www.GlosJobs.co.uk/policies.
If you find that you do not wish to receive details of new vacancies from us, please unsubscribe at the bottom of this email.
---
---
---
---
---
---
---
---
---
---
---
TIMELINE: As GlosJobs.co.uk celebrate 20 years in business in 2021, what other businesses have been founded since?

GlosJobs.co.uk

Click here for more details
---
---
---
---
---
---
---
---
---
---
---
---
---
---
---
---
---
---
---
---
---
---
---
---
---
---
---
---
---
---
---
---
---
---
---
---
To update your email preferences click here. If you would prefer not to receive future mailings from GlosJobs.co.uk, please click here.