Dear Subscriber,
The Virtual Jobs Fair is running again on Wednesday! Last month's fair was such a success that we are running it again this week. Job seekers will meet with local employers as well as www.GlosJobs.co.uk for help with job searching in Gloucestershire. The National Careers Service are leading another Virtual Jobs Fair this Wednesday 9th June at 11am to 12:15pm. Don't miss out: Click here for more information and to register your interest.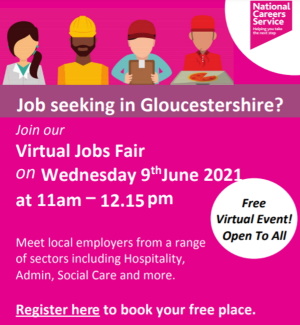 Are you aged 16 to 24 and in receipt of Universal Credit? Supported by the government, the Kickstart Scheme aims to help unemployed young people into lifelong careers, through six-month placements with the county's most exciting employers. Gloucestershire College provides full support every step of the way with almost 200 paid Kickstart vacancies that could give you that career break you've been looking for. Click on the link below for more information:
Kickstart vacancies for 16 to 24-year-olds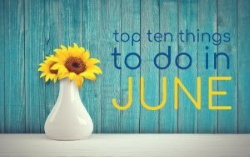 Looking for some inspiration to fill your free days this June? Well, why not check out the glos.info Top Ten Things To Do In June 2021 guide. This month our Top 10 includes experiences, theatre, music, food & drink and charity events. Get planning those Summer treats now.

Have a look at the cute overload that are the winners of Photo and Pet of the Day May 2021!
First up we have Dorothy's grandson Alexander who was rather pleased when he saw his cake to celebrate his 3rd birthday! Then we have Louis! Louis is a gorgeous King Charles Spaniel puppy who I very much expect has his owner, Caroline, already wrapped around his little claw.
Did you also know that both Dorothy and Caroline both won a £10 Amazon voucher for just sending in their photos?
Why not send us yours, just email us at stories@pepuptheday.com. If your photo is featured on our website you stand a chance of being picked as winners for that month.
£100 cash prize! Remember to sign up for our www.PepUpTheDay.com newsletter to be in with a chance of winning a £100 cash prize later this week: Subscribe Here.
Many thanks,
Belinda Wilson
01242 236608
office@glosjobs.co.uk

GlosJobs on Twitter

GlosJobs on Facebook

GlosJobs on LinkedIn

GlosJobs on Instagram
Thank you for signing up to receive emails from www.GlosJobs.co.uk. You can view our privacy policies on www.GlosJobs.co.uk/policies.
If you find that you do not wish to receive details of new vacancies from us, please unsubscribe at the bottom of this email.
---
---
---
---
---
---
---
---
---
---
*Experienced Drylining Sub Contractors (CSCS Card Holders) required*

John McNally & Co Ltd - Gloucester, Cheltenham, Swindon & Bristol areas

Click here for more details
---
---
---
---
---
---
---
---
Manufacturing/Fabrication Operative

Induction Coil Solutions - Cheltenham based – however travelling nationwide is required as and when

Click here for more details
---
---
*Kickstart vacancies for 16 to 24-year-olds*

Gloucestershire College - Gloucester, Cheltenham, Forest of Dean

Click here for more details
---
Project Officer - Disability and Inclusion Development

Active Gloucestershire - Active Gloucestershire HQ and remote working

Click here for more details
---
---
---
---
---
---
---
---
---
---
---
---
---
Cafe Assistant – Zero hours contracts, multiple positions

International Centre for Birds of Prey (ICBP) - Newent, Gloucestershire

Click here for more details
---
---
Supervisor, The Sundae Shack, Pittville Park, Full time hours, 5 month contract. Up to £9.10 p/h

In The Park Ltd - Cheltenham

Click here for more details
---
---
---
---
---
---
---
---
---
---
---
---
---
---
---
To update your email preferences click here. If you would prefer not to receive future mailings from GlosJobs.co.uk, please click here.