Dear Subscriber,
This time last year in the GlosJobs.co.uk newsletter we were reporting on the Office of National statistics June 2020 report "the number of vacancies in May 2020 fell to a record low." We are pleased to see that in their Vacancies and jobs in the UK: June 2021 report states "In March to May 2021, the estimated number of vacancies reached its highest level since January to March 2020 (which is a pre-pandemic period), with growth continuing in the most recent quarterly estimates."
We are seeing this on GlosJobs with over 2,500 jobs to apply for today. Scroll down to see lots of companies looking for staff or....

Start planning the month ahead with glos.info Top Ten Things to do in July. There's theatre, performing arts workshops, a fantasy forest festival, guided tours of Cheltenham, family fun days and much more! Don't forget to book early as some events are ticket only and some have additional restrictions in place for the time being. More HERE.
Plus, don't forget to check out our What's On pages for even more ideas.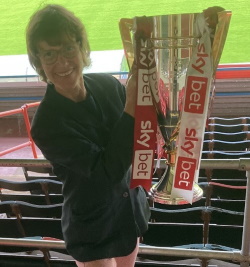 Belinda, Director of glos.info, was so pleased to go and hold the EFL League 2 championship cup at the Cheltenham Town FC ground last week. She reports it is much heavier than anticipated and that is was very exciting to hold.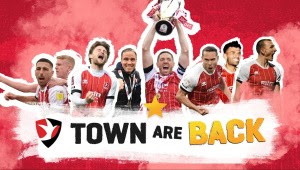 The glos.info team are really pleased to be working with CTFC again next season in the EFL League 1 and looking forward to using our season tickets which are on sale here.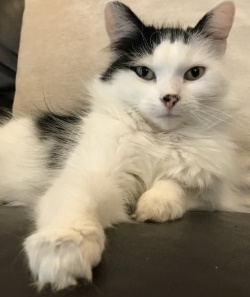 Beautiful Violet is Pet of the Day today over on PepUpTheDay.com. Why not send us a picture of your pets? Just email us at stories@pepuptheday.com. If your photo is featured on our website you stand a chance of being picked as the winner for that month and receive a £10 Amazon voucher.
Remember to sign up for our www.PepUpTheDay.com newsletter to be in with a chance of winning a cash prize every week: Subscribe Here.
Many thanks,
Belinda Wilson
01242 236608
office@glosjobs.co.uk

GlosJobs on Twitter

GlosJobs on Facebook

GlosJobs on LinkedIn

GlosJobs on Instagram
Thank you for signing up to receive emails from www.GlosJobs.co.uk. You can view our privacy policies on www.GlosJobs.co.uk/policies.
If you find that you do not wish to receive details of new vacancies from us, please unsubscribe at the bottom of this email.
---
---
---
---
*Kickstart vacancies for 16 to 24-year-olds*

Gloucestershire College - Gloucester, Cheltenham, Forest of Dean

Click here for more details
---
---
---
---
---
---
---
---
---
---
---
---
---
---
---
---
---
---
Structural Waterproofing Technician

Guardian Waterproofing Ltd - Gloucestershire and predominantly, South West

Click here for more details
---
---
---
---
---
---
---
---
---
---
---
Resident Graduate Assistant - From September 2021 - (for 1 Year Fixed Term Contract)

Wycliffe College - Stonehouse

Click here for more details
---
---
---
---
---
---
Mental Health Support Worker (Bridge Builder) - Integrated Discharge Hub Pilot Project

Independence Trust - Gloucester

Click here for more details
---
---
---
---
---
---
---
---
---
---
---
---
---
To update your email preferences click here. If you would prefer not to receive future mailings from GlosJobs.co.uk, please click here.