Dear Subscriber,
There is still time to register your interest as a jobseeker for the National Careers Fair Virtual Jobs Fair - Tuesday 13th June 2021 at 11am - 12:15pm. Meet local employers with real jobs and tips for applying and help with your search for a job in Gloucestershire.
Another way to help you search for jobs in Gloucestershire is to sign up for the Daily Jobs Email HERE.

Looking for things to do in the coming days? Then why not head on over to glos.info What's On pages for a growing list of events happening around Gloucestershire.

Here is just a few of our favourites...
Come and see beautiful sculptures in the historic setting of Berkeley castle. Cotswold Sculptures Association: Creating Spaces II. Open Sunday to Wednesday 4th - 31st July, more details here.
You can find even more events right HERE.

This is Bean enjoying fun with her best friend the hose...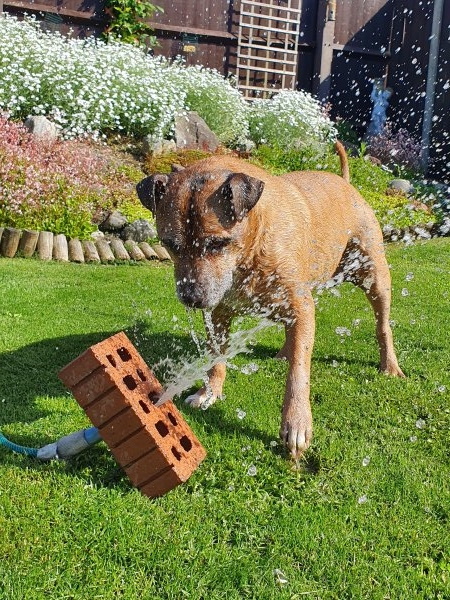 Bean is 14 in September although it looks like she's still a puppy. She also won a £10 Amazon voucher for her owner Shelly who sent us this fab pic which was chosen as the winner for June. Well done Bean!
Pop your pet pics in an email to stories@pepuptheday.com for your chance to win!
You can even win a cash prize in the daily PepUpTheDay.com email. Each morning receive an email full of daily quizzes, positive and fun ideas to brighten your day, competitions plus, every now and again there will be the cash prize which you could win if your lucky number is chosen at random.
Sign up now to receive new and original ideas by email and win cash prizes!
Many thanks,
Belinda Wilson
01242 236608
office@glosjobs.co.uk

GlosJobs on Twitter

GlosJobs on Facebook

GlosJobs on LinkedIn

GlosJobs on Instagram
Thank you for signing up to receive emails from www.GlosJobs.co.uk. You can view our privacy policies on www.GlosJobs.co.uk/policies.
If you find that you do not wish to receive details of new vacancies from us, please unsubscribe at the bottom of this email.
Jobs of the week on www.GlosJobs.co.uk.

---
---
*Kickstart vacancies for 16 to 24-year-olds*

Gloucestershire College - Gloucester, Cheltenham, Forest of Dean

Click here for more details
---
---
---
---
---
---
---
---
---
---
---
---
---
---
---
Trainee Structural Waterproofing Technician

Guardian Waterproofing Ltd - Gloucestershire and predominantly, South West

Click here for more details
---
---
---
---
---
---
---
---
---
---
---
---
---
---
Administration Officer (female only*) Fixed Term 6 month Post (Maternity Leave)

Stroud Beresford Group - Stroud

Click here for more details
---
---
---
---
---
---
---
---
---
---
---
---
---
---
---
---
---
---
---
---
---
To update your email preferences click here. If you would prefer not to receive future mailings from GlosJobs.co.uk, please click here.