Dear Subscriber,
With over 2,700 jobs advertised on www.GlosJobs.co.uk today how do you go about finding the right one for you in Gloucestershire? With over 400 jobs in our 'All Part Time Work Jobs in Gloucestershire' category alone; it is a lot to search for if you are looking for a job in a specific area. Use our Narrow By Location box to select the area you want. This can be found at the top right of the listing page: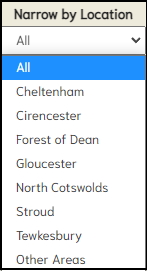 See all jobs in a particular area: You can click on our About GlosJobs® page and select by area. Why not bookmark the relevant page?
676 Gloucester jobs here
745 Cheltenham jobs here
368 Stroud jobs here
150 Tewkesbury jobs here
With the furlough scheme ending last week employment has been a hot topic in the news recently. In an article by the BBC last week How do I find a new job and who is hiring? reports "Job vacancies are at a record high, rising above one million in the three months to August." To read the full article and to see which sectors are hiring click here.

October is the month of Halloween and when the clocks go back (remember, Spring Forward, Fall Back) here is just a few things to do this coming week and beyond...
How about a bit of footie tomorrow? Well, Cheltenham Town FC welcomes Exeter City for a home game that kicks off at 7pm.
Groan Ups on this week at the Everyman Theatre - Follow an unruly classroom of six year-olds on their journey through anarchic high school teenagers to the challenges of adulthood.
Get ready for Halloween, it's PYO Pumpkins at Over Farm Market. Whether you're taking your pumpkin home to carve or cook up into a delicious soup, there's nothing better than the satisfaction of picking your own.
We recently ran a competition to WIN tickets to see Down For The Count: Legends Of Swing at the Roses Theatre. Down for the Count are a mini big band with an electrifying show full of incredible energy and musicianship. So, if you're into Swing music or just like having a fun time then this is definitely the gig for you. Tickets on sale now!


We have a winner of the PepUpTheDay.com Nine Word Story...
I travel light. The dog's mine. The £25,000 isn't.
We had over six hundred entries so thank you to all those who took the time. You can read all of the Nine Word Stories right HERE.
On the subject of competitions, we have a great new prize to give away...Enter NOW for your chance to WIN a free photo shoot from Theresa Selley Photography worth £429. This could be for any event of your choice, perhaps a wedding or special family event or even gift it to a friend or loved one for Christmas.
See all of our Competitions HERE.
Remember to sign up for our www.PepUpTheDay.com newsletter to be in with a chance of winning a cash prize every week: Subscribe Here.
Many thanks,
Belinda Wilson
01242 236608
office@glosjobs.co.uk

GlosJobs on Twitter

GlosJobs on Facebook

GlosJobs on LinkedIn

GlosJobs on Instagram
Thank you for signing up to receive emails from www.GlosJobs.co.uk. You can view our privacy policies on www.GlosJobs.co.uk/policies.
If you find that you do not wish to receive details of new vacancies from us, please unsubscribe at the bottom of this email.
JOB OF THE WEEK - www.GlosJobs.co.uk


---
---
Production Operative – Part Time – 24 Hours per week - £8.91 per hour

Paul Norman Plastics Limited - Woodchester, Stroud

Click here for more details
---
---
Trainee Mechanical Services Engineer / Trainee Sprinkler Systems Engineer

Woodward & Co (Environmental) Ltd - Tewkesbury

Click here for more details
---
---
---
---
---
---
---
---
---
---
---
---
---
---
---
---
---
---
---
---
---
---
---
---
---
---
---
---
---
---
---
Marketing Assistant (Copywriting) - Part Time

Severn Wye Energy Agency Asiantaeth Ynni - Highnam, Gloucestershire

Click here for more details
---
Marketing Assistant (Graphic Design) - Part Time

Severn Wye Energy Agency Asiantaeth Ynni - Highnam, Gloucestershire

Click here for more details
---
---
---
---
---
---
---
---
---
---
---
---
---
---
---
---
---
| | |
| --- | --- |
| | Bookings Clerk |