Dear Subscriber,
There are over 2,840 jobs to apply for on www.GlosJobs.co.uk and most request a CV in the application. So, get your CV ready! If you keep your CV up to date, it will help you hit the ground running when you see your dream job advertised.
The National Careers Service Webinar October 2021 can help. Please click on the links below for more information:
Weds 13th October CV skills 11 – 12.
Mon 18th October Developing an awesome CV and Covering Letter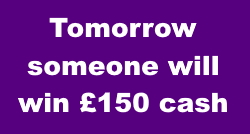 Yes, tomorrow a PepUpTheDay.com reader will win £150. Make sure you are receiving the daily email and check your lucky number!

There's no excuse for being bored when there are so many great events happening right now. Here is just a selection form glos.info to keep you busy over the next few days...

If you, a family member or friend has a big event coming up then you must enter PepUpTheDay.com competition to WIN a free photo shoot from Theresa Selley Photography worth £429! Theresa specialises in all types of photography, including portraits, events, weddings and real estate. This could cover the cost of photography for a wedding and reception!
Also, new this week is your chance to WIN one of three copies of the book The Working Women's Guide to Menopause: When the Heat is On. Don't Sweat It! by Gail Gibson and Ruby McGuire. Worth £9.99
September Winners Photo Announced for Photo of the Day. Well done to the winner, who has won a £20 Amazon card. Click here to see the winning entry. Have you got a great photo? Then send it to stories@pepuptheday.com for your chance to win.
These, plus all of our great competitions can be found here.
Remember to sign up for our www.PepUpTheDay.com newsletter to be in with a chance of winning a cash prize every week: Subscribe Here.
Many thanks,
Belinda Wilson
01242 236608
office@glosjobs.co.uk

GlosJobs on Twitter

GlosJobs on Facebook

GlosJobs on LinkedIn

GlosJobs on Instagram
Thank you for signing up to receive emails from www.GlosJobs.co.uk. You can view our privacy policies on www.GlosJobs.co.uk/policies.
If you find that you do not wish to receive details of new vacancies from us, please unsubscribe at the bottom of this email.
JOB OF THE WEEK - www.GlosJobs.co.uk




---
Customer Service Advisor roles - (French, German, Dutch and English Speaking) - 4 Month FTC

Superdry - Cheltenham

Click here for more details
---
---
---
---
---
---
---
---
---
---
---
---
---
---
---
---
---
---
---
---
---
---
---
---
---
---
---
---
---
---
---
---
---
---
---
---
Structural Waterproofing Technician

Guardian Waterproofing Ltd - Gloucestershire and predominantly, South West

Click here for more details
---
---
---
---
---
---
---
---
---
---
---
---
---
---
---
---
| | |
| --- | --- |
| | Se |