Dear Subscriber,
The Cheltenham Training, Apprenticeship and Jobs Fair last Friday 1st April 2022 was a great success and the GlosJobs.co.uk team enjoyed meeting jobseekers looking for help and advice. The Jobs Fair on Wednesday 30th March at the Lydney Library was also well attended. What next?
These events and others can be found in our Job Fairs in Gloucestershire category. Why not sign up to receive an email every time a new event is added to this category?
National Minimum Wage and National Living Wage rates changed on 1st April 2022. The hourly rate for the minimum wage depends on your age and whether you're an apprentice.
You must be at least:
school leaving age to get the National Minimum Wage
aged 25 to get the National Living Wage - the minimum wage will still apply for workers aged 24 and under.
The NLW and NMW rates from 1 April 2022 are:

What's new on glos.info?
Cheltenham Comedy Festival is ON NOW and celebrating its 10th Birthday!
With an enviable line-up of your favourite comedians, plus up and coming stars, performing in venues across Cheltenham! Returning to Cheltenham from 1st - 9th April 2022!
What better way to celebrate the 10th anniversary of the Cheltenham Comedy Festival than a stunningly brilliant finale line-up of THE best stand-up the UK has offer! More HERE.
Not long to go now for the Easter Eggstravaganza at Over Farm. Do you have your tickets yet?
The Over Farm Easter Eggstravaganza opens from the 9th April and visitors will be able to enjoy some new attractions for 2022. Will your kids prefer the Barnyard or Scrapyard playground? There's only one way to find out.
Also new this year is Mini Golf alongside all the other fun activities for the whole family to enjoy.
More and a link to buy your tickets can be found HERE.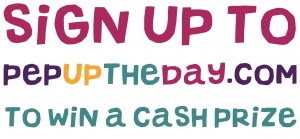 Have you signed up to receive the free PepUpTheDay.com daily fun packed newsletter? Well, if not, now is a great time to do so as the cash prize which appears randomly in the newsletter has reached a whopping £140!!!
Just sign up HERE and keep an eye out to see if it's a cash prize day.
Remember to sign up for our www.PepUpTheDay.com newsletter to be in with a chance of winning a cash prize every week: Subscribe Here.
Many thanks,
Belinda Wilson
01242 236608
office@glosjobs.co.uk

GlosJobs on Twitter

GlosJobs on Facebook

GlosJobs on LinkedIn

GlosJobs on Instagram
Thank you for signing up to receive emails from www.GlosJobs.co.uk. You can view our privacy policies on www.GlosJobs.co.uk/policies.
If you find that you do not wish to receive details of new vacancies from us, please unsubscribe at the bottom of this email.

#JOTW#

---
VIDEO VIEW - A new way for companies to encourage new recruits...

GlosJobs.co.uk - Do you want to attract some fabulous new candidates?

Click here for more details
---
---
---
---
---
---
---
---
---
---
---
Earn £30 for 2 Hours Work - PerformWork Ltd are looking for 10 people to review a web based service

Performwork Ltd - From Home

Click here for more details
---
---
---
---
---
---
---
---
---
*Production Assembly Operatives - Full training is provided*

X-TECH MEDICAL LIMITED - Stonehouse, Gloucestershire

Click here for more details
---
---
---
---
---
---
---
---
---
---
---
---
---
---
---
---
---
---
---
---
---
---
---
---
---
---
---
---
Design & Technology Technician (Food & Textiles)

Cheltenham Bournside School and Sixth Form Centre - Cheltenham

Click here for more details
---
---
Nursery Practitioner (Minimum Childcare Level 3 but Level 2 Qualification will be considered)

Mount Lands Day Nursery - Gloucester

Click here for more details
---
---
| | |
| --- | --- |
| | Financial Accountant |