Dear Subscriber,
All of us here at www.GlosJobs.co.uk hope you are having a good Easter break and enjoying the sunshine.
We have been eagerly awaiting the Vacancies and jobs in the UK: April 2022 report from the Office for National Statistics to see if the current increase in the number of vacancies has continued. The report states "In January to March 2022, the total number of vacancies increased by 50,200 from the previous quarter, with the largest increase in human health and social work, which increased by 13,100 to a new record of 215,500 vacancies."
We are advertising over 350 jobs in the Healthcare category HERE.
If healthcare is a sector you are thinking about for a career, but do not know how to start then JobSmart by Gloucestershire College have a new course - Introduction to Working in a Health Care Setting - 16th- 17th May that may help. More information about this course and others can be found by clicking HERE.
Want a website but not sure how to go about it? Contact glos.info will do it all for you! For £150+vat.
If you're mad on vinyl (no, not the flooring kind) then you really must visit the Independent Record Shop near the junction with the Bath Road and Shurdington Road. The shop is packed full of a mixture of cheap and cheerful records and new releases from selected artists to buy at great prices. Plus, if you have a collection stashed away gathering dust somewhere then why not take it along and speak with Martyn who will offer you cash to take them off your hands and give them another lease of life.
Martyn who has been running the Independent Record Shop since 2008 came to us to help build his website and as a small independent trader cost was important. We offer websites starting from just £150+vat including hosting so what are you waiting for? Drop us an email or give us a call and one of our local design team will help you bring life to your business online.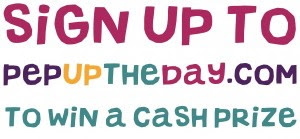 Last week Michelle won £140 in the PepUpTheDay.com newsletter cash prize draw!
Michelle signed up to the packed daily newsletter HERE full of fun things to do, interesting facts, mind bending quizzes plus of course the cash prize. If you want to be in with a chance to win the next cash prize, just sign up for free HERE and just keep checking to see if your number is chosen on a cash prize day.
Remember to sign up for our www.PepUpTheDay.com newsletter to be in with a chance of winning a cash prize every week: Subscribe Here.
Many thanks,
Belinda Wilson
01242 236608
office@glosjobs.co.uk

GlosJobs on Twitter

GlosJobs on Facebook

GlosJobs on LinkedIn

GlosJobs on Instagram
Thank you for signing up to receive emails from www.GlosJobs.co.uk. You can view our privacy policies on www.GlosJobs.co.uk/policies.
If you find that you do not wish to receive details of new vacancies from us, please unsubscribe at the bottom of this email.

#JOTW#

---
VIDEO VIEW - A new way for companies to encourage new recruits...

GlosJobs.co.uk - Do you want to attract some fabulous new candidates?

Click here for more details
---
---
---
---
---
---
---
---
---
---
---
---
---
---
---
---
Do you want to work in the Construction / Engineering Sector ? Fantastic Opportunity for Apprentice CAD Technician

Davidson Walsh Consulting Engineers - Cheltenham

Click here for more details
---
---
---
---
---
---
---
---
---
---
---
Inclusivity Works Jobs Fair - a Recruitment Fair with a difference!

Gloucestershire Gateway Trust - Gloucester

Click here for more details
---
---
---
---
---
---
---
---
---
---
---
---
---
To update your email preferences click here. If you would prefer not to receive future mailings from GlosJobs.co.uk, please click here.