Dear Subscriber,
Some of you eagle eyed regular GlosJobs.co.uk users will have spotted that we now list jobs in the Bristol area too! Yes... You can now look for jobs further afield in various ways:
Sign up for the Daily Job Alert for jobs in the Bristol Area here. They are sent to you at 5.30pm daily.
Bookmark the page that has all the Bristol Jobs on it here. There are currently 207 jobs.
Search jobs using the Bristol Jobs drilldown here. They are neatly sorted by category.
If you are looking to recruit in Bristol, we have some great deals at the moment, so drop us a line or give us a call.
Do you need some useful, extra tips on job seeking from www.GlosJobs.co.uk that we have learnt over the years.
When applying for a job send a covering email or fill in the application form in a way that shows how your skills match those that the recruiter is looking for. Never just say "CV attached" or "I would like to apply for this job". The recruiter needs your help to know you are the right person for the role.
Sign up for the GlosJobs Daily Jobs Alert, to get the latest jobs to your inbox and apply first.
Be selective about what you apply for, avoiding the scattergun approach.
Make a note of the jobs that you have applied for, ideally set up a spreadsheet to keep track.
Use the "Email yourself a copy of this job" function on GlosJobs.co.uk, so you have a copy of the advert if you get called for interview.
We also have 2 guides to help you with your jobs search: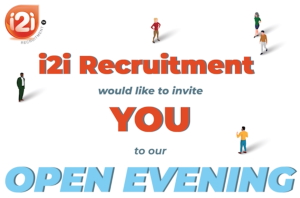 OPEN EVENING - 27th September 2023 - 17:30 to 20:00 - Leckhampton, Cheltenham
i2i Recruitment would like to invite you to thier Open Evening where we'll have over 100 live jobs on offer, CV workshops, interview techniques workshops, food and drinks!

Check out the glos.info Top Ten Things To Do In October 2023 guide. There is shopping, literature, Dracula and Bats!
Enter HERE glos.info FREE COMPETITIONS:
Win hospitality for 2 when Cheltenham Town FC take on Cambridge United on Saturday 21st October 2023.
Win 1 out of 15 pairs of tickets to The Festive Gift Fair 2022 at NEC Birmingham from Thursday 16th – Sunday 19th November 2023.
Win one of two pairs of tickets to Motorcycle Live 18th and 26th November 2023 at the NEC Birmingham.
WIN 1 out of 2 pairs of tickets to The Comedy Network @ CLC.
Make sure that you sign up for the weekly Thursday email packed with news, events and competitions here.
Many thanks,
Belinda Wilson
01242 236608
office@glosjobs.co.uk


GlosJobs on Twitter

GlosJobs on Facebook

GlosJobs on LinkedIn

GlosJobs on Instagram
Thank you for signing up to receive emails from www.GlosJobs.co.uk. You can view our privacy policies on www.GlosJobs.co.uk/policies.
If you find that you do not wish to receive details of new vacancies from us, please unsubscribe at the bottom of this email.

#JOTW#

---
---
---
---
---
---
---
---
---
Carer Assistant with Full Driving Licence referred - Full / Part Time

Private Advertiser - Bishops Cleeve, Cheltenham

Click here for more details
---
---
---
---
---
---
---
---
---
---
---
---
---
---
---
---
---
---
---
---
---
---
To update your email preferences click here. If you would prefer not to receive future mailings from GlosJobs.co.uk, please click here.