Fill your Bristol area job vacancies - quickly and easily from just £19+vat with the advert running until the position is filled
What you need to know...
You can see all the current Bristol Area job adverts here.
When you advertise your Bristol jobs with us, you will get good quality applicants direct to your inbox so you can easily find great new staff.
Quick and easy, upload your job advert or email it to us.
Start getting applicants straight away.
Only Pay If and When Position is Filled £65+vat - Job Adverts in the Bristol Area - Nothing to Lose!
Send us your job advert.
We will list it for you.
You start getting applicants straight away.
When you fill the role through GlosJobs.co.uk, let us know and we will invoice you £65+vat.
If you fill it elsewhere, there is nothing to pay, so you ahve nothing to lose!
Half-price Unlimited Job Adverts for the Bristol Area
You can advertise ALL YOUR JOB VACANCIES to a wide range of local job seekers at the half-price trial rate of £150+vat for the first quarter - just £11.50+vat per week for all your adverts to appear in a selection of relevant job categories.
We will set you up with an account so you can post any and all adverts to the site, manually or using posting platforms such as Broadbean, Idibu and Logic Melon.
You can then start receiving high quality applications straight away.
At the end of the trial, we will contact you to see if you want to continue advertising. We are sure you will, but if you don't want to, there is no obligation at all.
After the first quarter, the rate increases to £300+vat per quarter, with a quarter's notice required.
Half-price Single Job Adverts for the Bristol Area - Advertised until the position is filled for £19+vat
To advertise your vacancy until filled, please email us the details to office@glosjobs.co.uk, so the team can pick up the advert and list it for you.

Alternatively, you can upload your job advert here - and get a FREE HIGHLIGHT PACKAGE FOR A MONTH (worth £20+vat) - We will then authorise it and send you a link between 9am and 5pm weekdays.

We will then invoice you the half-price rate of £19+vat (normally £38+vat) and run the advert until the position has been filled.
Boost Your Adverts at the Half Price Introductory Rate...
Just choose which one you want, let us know and we'll set it all up for you.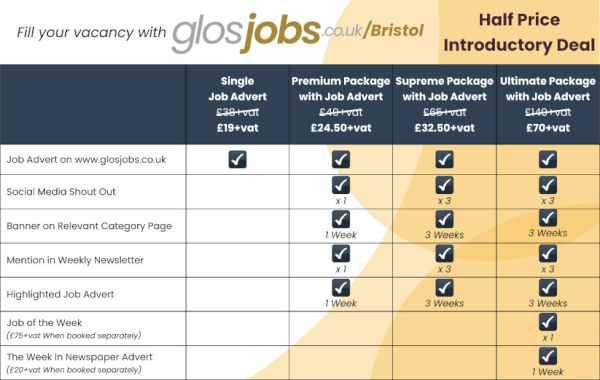 Guaranteed Advert Views
You can be sure that your adverts will be seen by a large number of job seekers, as we log over 100,000 visits to the site every month and our newsletters go out to 5,700+ subscribers every day. We also have varied publicity activities in the area, so look out for www.GlosJobs.co.uk/Bristol advertising.
Knowledgeable, Experienced, Local Team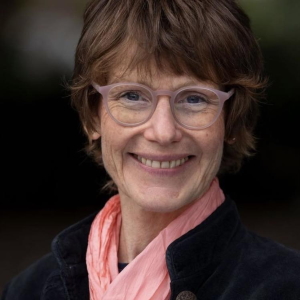 In the 22+ years since the website was founded in 2001, Belinda and the team have advertised over 570,000 vacancies and many thousands of people have found new jobs through the GlosJobs.co.uk job board. Most of the team have been with the company for many years, some have been with us for over 10 years! So we can offer you some great advice and personal service based on your requirements.
What Recruiters Say About Advertising with Us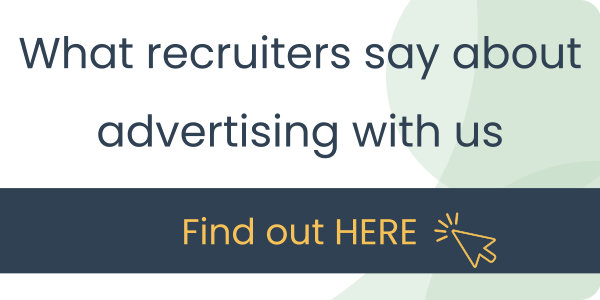 Don't just take our word for the fact that advertising vacancies works, click here to view hundreds of recruiter testimonials.
Bristol Area Jobs
Click here to see all the jobs in the Bristol Area by category
Click here to see all the jobs in the Bristol Area by list

Give us a call on 01242 236608 or email office@glosjobs.co.uk to find out more.