Advertise on GlosJobs - Over 5,000 Gloucestershire businesses advertise their vacancies on GlosJobs - you can too!
We can guarantee that your adverts will be seen by a large number of applicants! We log around 130,000 user sessions per month.
You have two options for advertising your vacancies on the GlosJobs website: Single Vacancies or Unlimited Vacancies.
Single Adverts - £33+vat until the position is filled - Email us your advert and we will upload it for you

We will advertise a vacancy for you for just £33+vat, until the position is filled.
Your advert will appear in the Daily Jobs Email which is sent out at 5.30pm every day to subscribers to the relevant category jobs.
It will also be featured as on the New Jobs page, which appears as a banner on every page of the www.GlosJobs.co.uk and www.glos.info websites.
You can place your vacancy on the GlosJobs by simply E-mailing the text that you wish to be advertised. We also need your contact and invoice details and the address of your company website, so we can put your logo onto the advert.
We normally advertise a vacancy within a couple of hours of receiving the text by email.
If you want to advertise on an ongoing basis, we charge £33+vat per quarter for each advert.
Please e-mail info@glosjobs.co.uk or request a call back to advertise your vacancy.
BOOST YOUR ADVERT BY CHOOSING ONE OR MORE OF THE FOLLOWING OPTIONS:
Featured Recruiter or Job - £45+vat per week on homepage or £15+vat per week on other pages
Premium Package - £10+vat per week - MOST POPULAR OPTION
Highlighted Package - £15+vat per month
Featured Recruiter or Featured Job Advert - Increase the visibility of your advert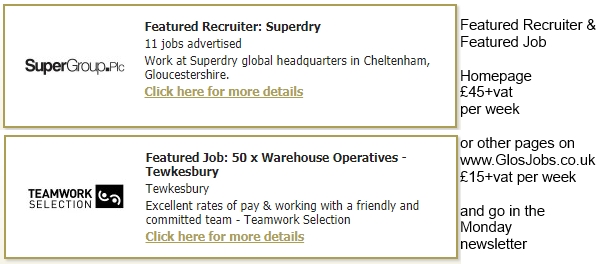 Just let us know whether you would like your company or job advert to be featured and we will set up the advert for you on the page of your choice. Your advert will be included in the Monday newsletter too.
Premium Package - Boost the exposure of your advert
Your advert can be given extra exposure on www.GlosJobs.co.uk by booking a Premium Package.
For an extra £10+vat, your advert will be:
Given one week's extra exposure on a banner, which will show in a relevant category and on all the adverts in that category
Featured at/near the top of the weekly email that is sent to 11,200+ subscribed jobseekers
Sent out on social media to 2,600+ Facebook and 8,000+ Twitter contacts
Highlighted in the list page of adverts for one week.
Just let us know and we can set this up for you straight away.
Highlighted Package - Make your advert stand out from the thousands of other adverts
Boost your job advert with a highlight for £15+vat per month
A larger logo and featured text will boost your advert!!
If you are advertising a single advert or have an account, any advert can be boosted for as long as you want.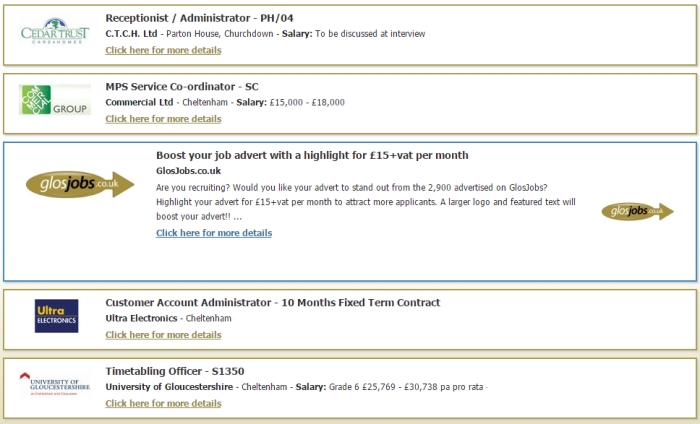 Voluntary Positions - Email us your advert and we will upload it for you
All voluntary positions, at charities or elsewhere, are advertised totally free of charge. Please just email us details of your adverts.
Unlimited Vacancies - From £9.50+vat per week trial period - - Email us your details and we will set up an account for you
GlosJobs allows you to slash the cost of job advertising. All your company's jobs can be advertised for £19 per week, for a 3 month period, on an ongoing basis.
We would be happy to offer a half price trial period for 13 weeks, at £9.50+vat per week.
At these prices it is easy to see how your company can substantially cut the cost of job advertising. So whether you have lots of jobs to offer or just a few, the real cost of advertising can be dramatically reduced.
We supply you with a password so that you can administer your own vacancies. They appear on the GlosJobs site in real time. If you have a position to advertise and put it straight onto the GlosJobs site, job-hunters will be able to view the details instantly.
We do not tie you into a long contract and just ask for a quarter's notice to terminate an account.
If you would like to use GlosJobs.co.uk for a reduced rate trial period, please E-mail info@glosjobs.co.uk or request a call back for further details.
Banner Advertising - Various Options:
Homepage Banner £30+vat per week
We will upload a banner of your choice to the homepage of GlosJobs.co.uk. The banner should be a gif sized 468 x 60 and can be animated with your logo and any text you like.
Banner of the Category £10+vat per week
Promote a particular job advert on a particular category page within GlosJobs.co.uk and your banner will appear on all the adverts clicked into from that page, so you will be able to promote your advert specifically to jobseekers looking for roles withing the category. You don't need to supply a banner, just let us know which advert you would like promoted and we will upload it for you.
Banner on every page of the GlosJobs website
Your banner and branding can appear on every page of the GlosJobs.co.uk website for £550+vat per quarter, during which time the banner will have over 1,000,000 impressions. It is a very cost effective way to get your brand into the mind of Gloucestershire jobseekers.
If you would like to advertise on GlosJobs.co.uk, please e-mail your advert to info@glosjobs.co.uk, request a call back or call 01242 236608.
Belinda and the team look forward to hearing from you.
Prompt Payment Code
GlosJobs Limited is approved as a prompt payer and signed up to the Prompt Payment Code, which means that we pay all our suppliers on time, give clear guidance to suppliers and encourage good practice. We therefore encourage our clients to follow the same example and to pay us on time.

Payment Terms
All advertising is booked on the basis of 30 days terms.
We will exercise our statutory right to claim interest (at 8% over the Bank of England base rate) and compensation for debt recovery costs under the Late Payment legislation if we are not paid according to our agreed credit terms.